Start Your New Year with Peace, LOVE, and Lapdances Shy Love Announces January 2006 Tour Schedule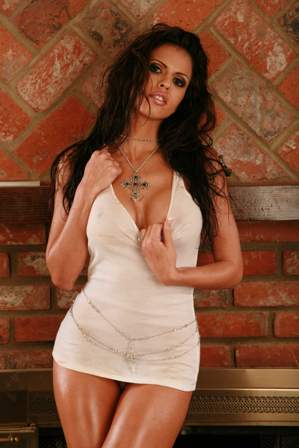 (Woodland Hills, CA) It may be a week and a half before the ball drops on Times Square, but Shy Love already made her New Years resolution, to meet and perform for as many of her fans as possible in 2006.
The popular feature dancer/director/performer prepares to embark on her most ambitious appearance schedule with a fresh look and re-vamped feature dance show. Love is also set to direct several titles a month for her production company Full Throttle Productions, as well as continuing to appear in scenes for other adult film studios.
"2005 has been great and I am very pleased with all of the accomplishments I have achieved," says the breathtaking brunette. "2006 is all about professional growth in all facets of my career. I tested the waters in 05 with feature dancing and directing and found that I absolutely love both,
'06 is going to be very demanding but I believe the most satisfying year yet."
The fan favorite begins her 2006 Tour at Déjà vu in Shreveport, LA where she will appear for 3 nights beginning Thursday, December 29th. Mark your calendars and ring in the New Year with Shy Love as she performs several shows nightly. Enthusiastic audience members can win free DVDs, autographed 8X10s, tour tee-shirts, and one lucky lady or gentleman will be chosen for an on-stage, interactive performance with Love.
Immediately after each show, Shy is available for lap daces, autographs, and polaroids. Additional merchandise is available for purchase and includes full size posters, 8X10s, web site memberships, and her latest and greatest movies.
Déjà vu is located at
202 Commercial Street
Shreveport, LA
(318) 221-2638
Call for show times
Shy's next stop is the 2006 AVN Adult Entertainment Expo January 5th – 8th, in Las Vegas where she will sign for Madness Pictures at Booth 8030 in Hall A. Please visit www.shylovexxx.com for signing times.
Continuing on across the country, you can meet Shy Love
January 10th – 14th
Blush
135 9th Street
Pittsburgh, PA
(412) 281-7703
Call for show times
January 18th – 21st
Stilettos
1480 North Expressway 77
Brownsville, TX 78521
(956) 504-0653
Call for show times
Shy Love wishes you Happy Holidays and looks forward to seeing you everywhere in 2006!
For more information about Shy Love, please be sure and visit her at www.shylovexxx.com.
Shy is exclusively represented by LA Direct Models and can be booked for scenes by contacting them at (818) 752-5080
To book Shy Love for feature dance dates contact The Lee Network at (727) 367-1002 or (416) 259-2568.
For media and appearance inquiries, please contact Shy's publicist Janie Liszewski at High Profile Media (661) 607-4891