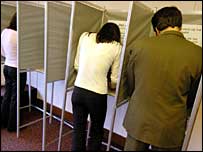 Fayner Posts: Of course I'm a bit sad, stunned really, but one must accept the voting system and the people's favorite. That's the American Way.
As of this writing, 4:42 am, the latest poll on this site regarding the adult industry's best gossip writer has Taylor Rain miles ahead of yours truly, the real Luke Ford, Gene Ross and Mike South. Although proud of being #2, I think of myself as #3 behind Luke and Gene.
But I'm not part of the Bush family, so I can't for the life of me figure out how to rig the vote in my favor.
Congrats TR. Your 2 months at the helm here has somehow surpassed something like a combined 40 years of reporting by the rest of us. What's your secret???
| | | |
| --- | --- | --- |
| Scott Fayner | | 29 |
| Taylor Rain | | 44 |
| Gene Ross | | 2 |
| Luke Ford | | 27 |
| Mike South | | 2 |