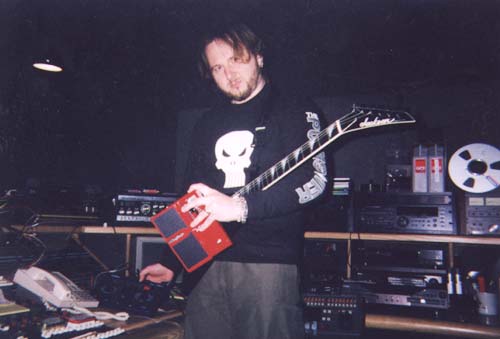 THERE HAVE BEEN BOATLOADS OF SHITTY ROCKER NICKNAMES THROUGHOUT THE YEARS… DOKKEN'S "WILD" MICK BROWN, FASTWAYS'S "FAST" EDDIE CLARK, BOBBY "THE BLOTZ" BLOTZER OF RATT AND NOW "METAL" MIKE CHASCIAK. HE GETS TO GO TO JENNA'S SHOOT ON FRIDAY AND I DON'T. I BET THAT IF I HAD A BOZO NICKNAME I'D BE INVITED.
http://www.roadrunnerrecords.com Guitarist "Metal" Mike Chlasciak (HALFORD, SEBASTIAN BACH, PAINMUSEUM) has issued the following update:

"Greetings, metal horde. I have been in Los Angeles for the last few weeks working on several metal endeavors. While I promised myself to stay focused in order to keep grinding out some massive riifs, there are sidetracks that for name of rock you have to part take in. So, thanks to Playboy, on Friday, November 4th, I'll be attending the taping of the first episode shoot for Jenna Jameson's new Playboy TV reality series 'American Sex Star'. From what I gather, it's similar to 'America's Next Top Model', however instead of a runway model they will choose the next hot porn star. What a brilliant idea. Either way, count me in!