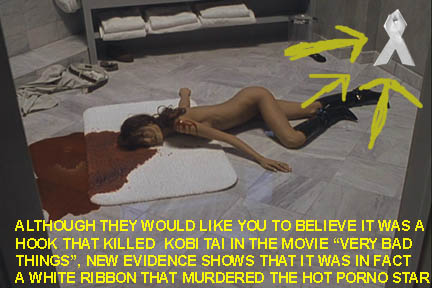 http://www.wisinfo.com/thereporter/index.shtml The annual White Ribbon Campaign to focus attention on the negative impact of pornography on society will be held Oct. 29 through Nov. 6 in the Fond du Lac area.
Citizens for Decency through Law and Morality in Media sponsor the annual event. Those who want to obtain white ribbons to display during the campaign may contact Dorothy Klumpyan at 921-4277.
"The White Ribbon Campaign came about to express the innocence of children and to do whatever we can to safeguard the children in our community," said Klumpyan, secretary of Citizens for Decency through Law.
"Let's encircle our area with white ribbons outdoors for one week," Klumpyan added. "Help us spread the message."
Fayner Says: How about we buy all shitload of their white ribbons and shove them up some whores ass in a movie? Good ideas just flow through this amazing body…