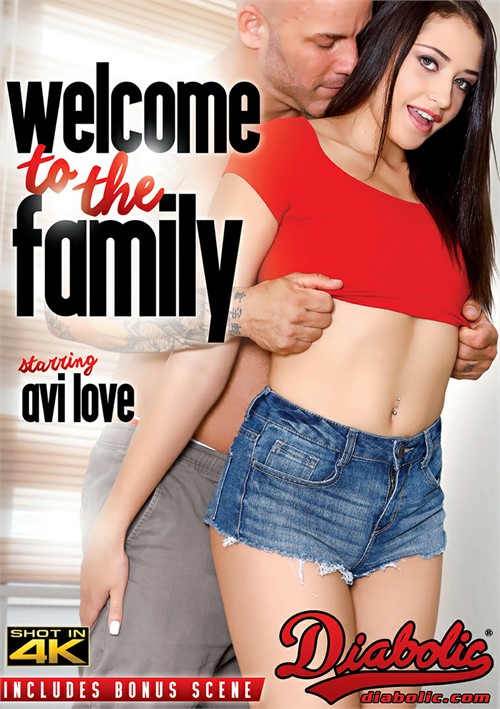 Also: 'I Caught My Daughter Fucking My Boyfriend 3'
VENICE, CA – Family affairs are all the rage in the adult industry these days and Avi Love is in some scorchers!
She's made the cover of Diabolic's Welcome to the Family, which pairs her with Derrick Pierce. In keeping with the title, there is some serious welcoming in this scene and few family members have ever felt so welcome.
She also stars in I Caught My Daughter Fucking My Boyfriend 3 (Devil's Film), in which she naturally plays the daughter. Eric Masterson is the total perv who stuffs his sword into the wet and willing pussy of his girlfriend's daughter. Is that wrong? Turns out his girlfriend thinks so. Maybe she best be careful what she says or Eric will trade her in for a new model!
"I love shooting dirty scenes that I know will freak a couple people out," Avi said. "I mean, if no one is offended, it's probably not a very hot scene, right? These were both really fun to shoot and are easy on the eyes. I highly recommend both of them to all of my extended family!"
Watch a preview of I Caught My Daughter Fucking My Boyfriend 3: https://www.adultdvdempire.com/1926713/i-caught-my-daughter-fucking-my-boyfriend-3-porn-movies.html. See the Welcome to the Family preview at https://www.adultdvdempire.com/1923213/welcome-to-the-family-porn-movies.html.
Watch Avi in her fluffy-muffed sucking-and-screwing boss-banging glory at https://www.bang.com/video/WUGl_FyzxWOsPJpc/hairy-teen-avi-love-lands-a-job-sucking-and-riding-cock-at-the-theater. Also check out Drilled.xxx's "Not So Innocent" with Avi and Markus DuPree on https://drilled.xxx/trailers/15583-avilove.html.
SOCIAL: Twitter : @avilovexxx; IG: ms.avilovexxx
BOOKING: Nexxxt Level Talent: https://nexxxtleveltalentagency.com/model/avi-love/
PRESS/MEDIA CONTACT: Rising Star PR, info@risingstarpr.com, @RisingStarPR
For everything Avi Love go to http://risingstarpr.com/clients/avi-love/.