Adult FYI reported a very interesting story today about Lisa Ann and the upcoming 3D Hustler production of the newest Sarah Palin porno parody.
To sum it up, Lisa Ann was kicked off the setup of the latest shoot, replaced with Joslyn James.  They claimed that Hustler made her so she better start showing some respect and then told her to get her has been ass off of their set.  You can read the full story below.
The only thing I keep thinking is …… the 2012 elections are soon.  What better time to have a political porno parody war.
HEY WILL RYDER, IS THAT OPPORTUNITY KNOCKING?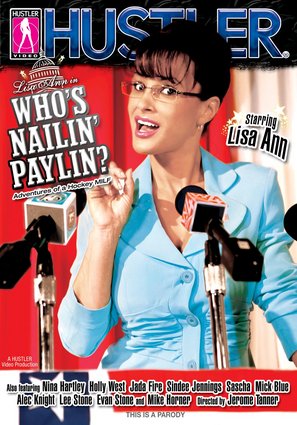 PARAMUS, NJ– During her interview for the latest edition of the adult webcast, Video World TV, XXX star Lisa Ann opened up about her now famous on-set blow up with director Axel Braun. The confrontation culminated in Lisa being fired from the lead role in the highly successful Nailin' Palin adult video franchise.
While conducting her first interview as Video World TV host, Adam & Eve contract star Alexis Ford spoke to Lisa Ann about a number of the veteran porn performer's projects. However, it was when Alexis asked Lisa about her experience performing in the "Palin" parodies that things got it bit heated on the VWTV set.
"My Palin career has been fantastic," Lisa said. "It's opened so many doors for me…but sadly I have been replaced."
Joslyn James or Lisa Ann … who makes the best Sarah Palin?

Lisa proceeded to go into detail about her on-set altercation with director Axel Braun during the shooting of Who's Nailin' Palin? 2. Lisa said what led to the blow up was that she had been on set all day waiting to perform, and when she informed Braun at 11:30pm that, according to her agreement with the company, her work day was to end at midnight and that she had an early call time the following morning for another shoot.
"That turned into a very nasty verbal tongue-lashing at me," Lisa remembered. "He talked to me like an abusive boyfriend would talk to some eighteen-year-old porn girl who's on crack."
"He fired me," Lisa continued. "He tells me to get my 'washed-up' ass off set and he never wants to shoot me again."
From there Lisa went on to explain how an online campaign of negativity followed her dismissal from the popular porn series.
"So they hired another Pailn. Not only do they shoot another Palin movie, but they tweet and send out messages and do interviews about how much time they wasted with me and how much better the new Palin is."
As Lisa relived the story of her dismissal, Alexis offered support to her guest, but Lisa assured Alexis that she was just fine.
"I don't care. I think the whole thing is hilarious. Just so the world knows, porn can sometime be like high school with drugs and money. That's what porn is."
You can see the Lisa Ann Video World TV interview with Alexis Ford at www.videoworldmag.com.
Porn Valley- Sir CharlesZ posts on www.xxxporntalk.com : If you follow Lisa Ann on Twitter, you likely noticed that she was pissed off royally after being fired from her latest movie (a 3D parody for Hustler) and being replaced by Joslyn James. Personally, I think it's outrageous that a legend like Lisa would be treated in such a shabby manner.
She's posted the emails she sent and received back from Hustler on her website: www.thereallisaann.blogspot.com/2011/02/let-politics-begin.html
Let the Politics Begin!
My email exchange with a Hustler employee…
———- Message ———-
From: Lisa Ann
Date: Tue, Feb 8, 2011 at 10:53 AM
Subject: ?
To: Drew
Today I ask myself why i would even be brought into that situation…
It was not a matter of pushi8ng back my call time or me coming too early. I was booked for Monday- NOT Tuesday morning. It is completely unfair that i am treated with such lack of respect for all of the hard work and consistency I have shown your company. The to ice the cake I have to fight for myself when someone looks at me and speaks to me with such disrespect.
i would like to know what you will be offering me as a kill fee and how this will ultimately be settled. I am sure we are CLEAR I will never be on another set for Axel Braun.
—
XO LA
———- Reply message ———-
From: Drew
Date: Tue, Feb 8, 2011 at 11:55 AM
Subject: RE: ?
To: Lisa Ann
LISA……….
I am not offering you shit!!!!! You had already made up your mind at 11:15pm that you were leaving when you walked onto MY set, interrupted a dialog scene with demands on how soon you would be in front of the camera.
When I told you 30min, you snapped back that it was unacceptable because that would put you there until 3am. I said no, probably 2AM. You then proceeded to ask Axel. He responded that it would be more like 3AM. The argument with you and Axel was ridiculous but still, we were in the middle of an important scene on a green screen, with 13 people, shooting in 3D??? YOU single handedly derailed my entire shoot. What do expect when you come at us like that. YOU threatened to leave and he told you several times to talk to Mark. It became a challenge as to who would win the argument and you made your decision. YOU left me at that moment with no options. I had wardrobe fitted for you, you were already in makeup, etc…
As for you, and your consistency with Hustler….? This company put "LISA ANN" back on the fucking map several years ago and you know it. I made sure we continued to hire you. I know what you sell those DVD's for. I made sure you got whatever you wanted, whenever you needed it. I made sure we plastered your image and name larger than life, year after year, in our booth in Vegas. So let's be sure it's all in proper perspective, OKAY?
At 10PM Marc started telling me that you were getting antsy. You were only there for 4 hours at that point? Leaving me hanging at midnight with no options is a total lack of respect for me!!
No more worries Lisa. We have an understanding. I won't be putting you in any more "SITUATIONS" again.
I am very disappointed. Go Tweet THAT!
Respectfully,
DR [Drew Rosenfeld]