It seems almost every day you hear about some new lawsuit about privacy. In fact recently a wife filed a criminal complaint against her husband for violating her privacy with her email. Recently Yahoo was sued for violating the privacy of a woman. Then again so was Netflix, CVC pharmacy, Google, a school district in a suburb of Chicago, and even Facebook.
There always seems to be one issue or another going on at any given time of day in the news about privacy.
But are porn stars not afforded those same rights?
Porn stars use stage names for a reason and that is because unlike most real people in the world, even Hollywood celebrities, porn stars are exposed in a very real intimate way and sometimes fans can get confused and cross the line between fantasy and reality.
It is for this very reason that porn stars don't need their real names revealed, let alone their real names, date of birth, city and state they were born in, all in one place but FreeOnes has apparently done just that.
In an unrelated incident to the FreeOnes.com ordeal, I spoke recently to Ben Protzmann, someone who has been in the industry for over a decade now, about this issue and he defends websites doing this by saying things like, well their real names are already out there. We didn't reveal them in the first place.  So I responded with …. let me get this straight … because someone else stuck their head in an over, you should do it too?
Just because someone else does something stupid, doesn't mean you have to do it too. Posting the real names of porn stars has no real marketing value whatsoever.
Do you think that a fan is suddenly going to buy more DVDs, or spend more money on buying website memberships because they know the stars real name? Of coruse not. There is no real, tangible benefit to posting a porn star's real name.
The only purpose it serves is to potentially cause the starlet in question harm.
With the information that FreeOnes.com is providing about a porn star, date and location of birth, and her real full name including in many cases the full middle name or middle initial, any retard with a credit card and $3.95 (yes I said three dollars and ninty five cents) to spend can find out some very real and dangerous information about the given porn star including the names, address and phone numbers of her relatives, where she lives, her phone number, who she may be married to, his full name, and the names, addresses and phone numbers of his releatives.
Identity theft is the very least of these girls problems.
Think what a deranged person can do with this kind of information.
And remember all they needed to do was visit FreeOnes.com, get the information then spend as little as $3.95 at a research website and in less than 5 minutes, some crazy ass fan knows where a porn star lives, who she is married to, their telephone number, the make and model of their car, the names of all of 10 or 15 of her closest relatives, their addresses and phone numbers.
It was revealed today on Twitter than a fan recently got ahold of the real names for Teagan Presley and her husband and used that information to show up at the hotel room Teagan was staying at while on tour.
I don't know why they did it but FreeOnes.com knowingly and willingly put these girls in harms way by posting this private and personal information.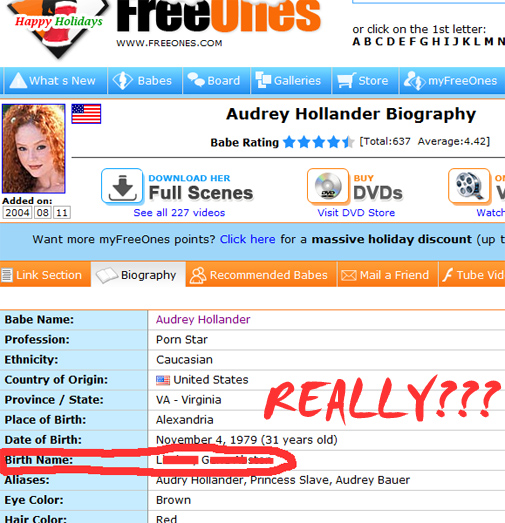 SHAME ON YOU FREEONES.  YOU'VE MADE AN ENORMOUS AMOUNT OF MONEY OFF OF PORN STARS.  IS IT SO MUCH TO REALLY ASK YOU TO TRY AND PROTECT THEM AS WELL?