Sheyla Hershey is giving the word KKK a whole new meaning! What in the heck am I talking about you ask? Well if you are like me you probably and look at boobies all day long, BS inevitably you've probably wondered at some time or another just how big boobies can really get and who happens to hold the title as the world's biggest boobies.
Turns out the answer to that question is Sheyla Hershey of Houston, Texas who has some KKK boobs.  In all Sheyla has had 18 plastic surgeries, most of them to her boobies and that helped her to be awarded with the Brazilian equivalent of the Guinness Book of World records award. She's recently had some problems with them but says she plans on getting more work done soon.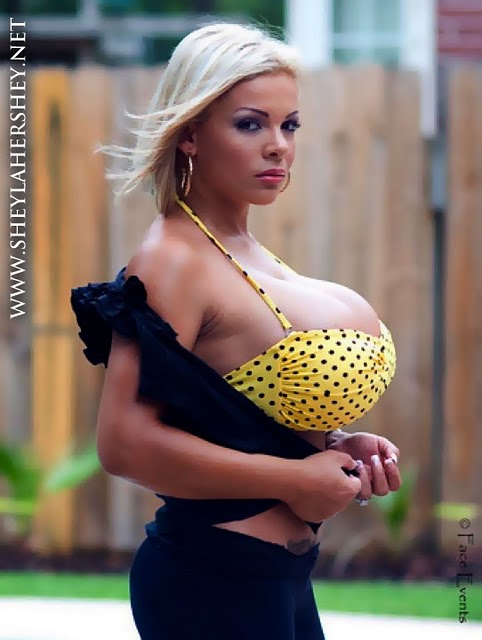 Her official website lists her biography as …. Sheyla Hershey, born Sheyla Almeida Hershey, singer, dancer, actress and model resides in Houston, Texas. Sheyla is 5'3" and is a talent on the rise. She is a twenty-eight year old Sagittarius. Sheyla is a proud wife and mother. Sheyla was born in Brazil and likes to travel. Sheyla is fluent in Portuguese, Spanish, Italian, Chinese and English.

Sheyla takes her craft seriously in that she has had over 18 plastic surgeries, mostly to her breast, but also her nose, lips and buttocks. She is currently at a breast size of KKK. For this, she has been awarded with the Brazilian equivalent of the Guinness Book of World records award. Sheyla has interest in various aspects of entertainment. Among having her own record label in Brazil, these interests have allowed her to participate with a Philippine band, attend acting school and various auditions for other endeavors. She has appeared on national television shows, Fox News and The Insider. She has appeared on NBC's The Last Comic Standing and will be making appearances in upcoming movies. Her career is just taking off and about to soar to heights of majestic proportions.
Update: After making this original post I did a little more research on the subject of find that although these boobs are huge, in reality they aren't the biggest. Maybe 2nd biggest? But anywho,
Maxi Mounds holds the Guinness World Record for the "World's Largest Augmented Breasts". She approached Guinness in August 2003, but the category did not yet exist. After creating the category, Guinness contacted her to request documentation of her measurements. She was presented with an official certificate that reads: Maxi Mounds (USA) was measured at Sarasota, Florida, USA, on 4 February 2005 and found to have an under breast measurement of 91.44 cm (36 in) and an around chest-over-nipple measurement of 153.67 cm (60.5 in). She currently wears a US size 42M bra (UK 42J).