This summer Google announced their newest product which seamlessly combines TV and the Internet. Google TV is being touted as a "complete entertainment device" and is expected to be released later this fall.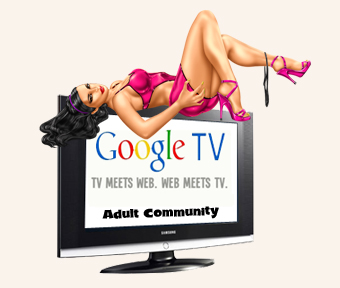 Today it was announced that the website www.AdultCommunity.com has begun development exclusively for Google TV. This is one of the first sites to announce their intention to develop a website exclusively for the new Google TV.
Google TV is already backed by major players like Sony, Logitech, Intel, Dish Network, Netflix and Best Buy, and it is rumored that at launch they will be working with 3 of the 4 major TV networks; Fox, NBC and CBS.
The Adult Community site is the first XXX rated website to officially announce its plans to be exclusive to the Google TV platform.
Upon release the site will offer Google TV users a catalog of adult films featuring the biggest stars including Briana Banks, Eva Angelina, Tory Lane, Hillary Scott, Katsuni, Morgan Dayne, The Love Twins, McKenzee Miles, and Audrey Hollander. Besides photos and videos, the site also has plans to feature custom created content uniquely designed for the Google TV platform.
ABOUT ADULT COMMUNITY
www.AdultCommunity.com is a joint venture between Kelli Roberts and Loryn Taylor. The website is expected to be open to the public later this fall and will be optimized exclusively for the Google TV.
Loryn Taylor has been in the business for 8 years including a 5 year tenure at the Playboy owned adult.com as a marketing manager. Eventually she ventured off onto her own, working as an independent consultant for a variety of affiliate programs setting up commission deals and cross sells deals and the money was there, enough for her to stop looking for a company to work at and start her own. You can follow Loryn on Twitter by going to www.twitter.com/LorynTaylor.
Kelli Roberts has 15 years of industry experience, running a collection of over 50 adult websites as well as working as an independent marketing consultant with several large companies. In 2010, she wrote and produced her first movie, Hocus Pocus XXX. She also runs the popular porn star ranking website www.FameRegistry.com. You can follow Kelli on Twitter by going to www.twitter.com/KlubKelli.