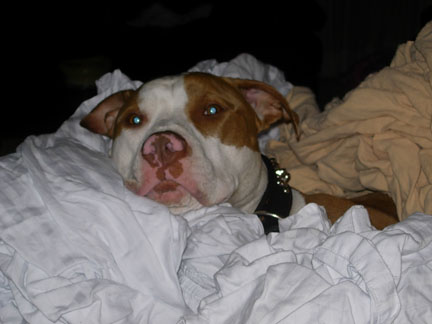 TMFR WRITES:
FAYNER SAYS BANDIT IS A PUSSY 'CAUSE HE SLEEPS UNDER THE COVERS AND LOVES TO GIVE KISSES AND WALKS AROUND ON HIS TIP TOES! HE EVEN CAME UP WITH A NEW LIST OF THINGS MY BOY B IS CURRENTLY AFRAID OF! SOMETIMES I JUST HATE FAYNER!
HERE IS THE LIST HE MADE
BANDIT IS SCARED OF:
1) CHRISTMAS GIFT RIBBONS
2) CANDY CANES
3) ONE INCH TURTLES IN A TANK
4) A FRAMED PICTURE OF HIMSELF

5) A SPY CAMERA
6) WHIPPED CREAM
7) A JAR OF DOG TREATS
8) A TIN OF ALTOIDS
9) BASIL IN A CUP
10) A $20 BILL AND BELGIAN CHOCOLATE, BUT ONLY TOGETHER. SEPERATELY HE IS FINE WITH THEM.