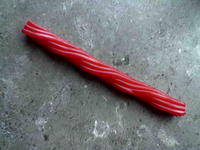 Fayner Posts: Get your mind out of the gutter you sick freaks!!!
During a recent visit from Texas, TR's Nanny and I had a chance to really get to know each other. She found out quickly that I was a scumbag after I walked into the house wearing a NAUGHTY AMERICA t-shirt.
"Naughty America?" she asked.
"It's a typo," I replied. "It should say Not In America referring to how sex before marriage should not be allowed in America."
"Bullshit," she shot back.
Later when Tr was getting out of line I threatened to whack her with a Twizzler.
"Oh, don't do that!" her grandmother yelled. "My husband whacked me with a Twizzler once, and it really hurt!"
"I know!" TR agreed. "Scott beat me with one last week and it fucking hurt, Dawg!"
"Shit, nigga!" Granny exclaimed.
TR's grandmother gave me bad looks the rest of the night.