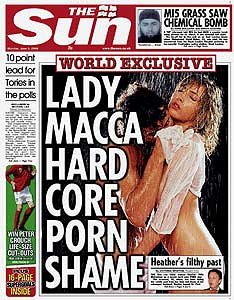 (BANG) – The porn star who posed naked with Heather Mills McCartney has claimed they had full sex.
The man, who appears nude in the 1988 book, "Die Freuden Der Liebe', which translates as "The Joys of Love," with Heather, plans to reveal intimate details of their alleged sex marathon after the cameras stopped shooting.
The revelations of the curly haired model will bring further shame on Sir Paul McCartney's estranged wife and could dramatically reduce what she gets in their divorce settlement.
An adult men's magazine is also planning to publish some of the most explicit photos from the shoot.
In one shot from the book, the 38-year-old blonde is seen performing a sex act on a naked man, while others show her using whips, handcuffs and whipped cream.
Despite being rocked by the revelations, Heather is planning to tell her side of the story in an interview with chat show host, Larry King.
A source said, "She is desperate to get her side of the story over before her divorce settlement. Heather thinks she will get a fair hearing in the United States, where she intends to develop her career."
Heather was interviewed weeks before she split from Sir Paul about her "passionate" sex life.
The 38-year-old was promoting her new book "Life Balance," and revealed that she was happiest "post passionate sex."
Sir Paul and Heather split last month after four years of marriage. They have a two-year-old daughter, Beatrice. All content provided by BANG Showbiz.