AND GUESS WHAT?
IT MAKES COMPLETE SENSE!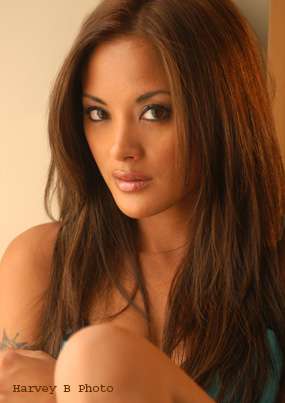 Kaylani Posts on her MySpace page: So what i did was I looked through all of my mail and jotted down the questions. I am now looking at my sheet of paper with scribbles on it, and answering the questions as they appear. So in no particular style or order, here goes: stay with me now…..
Being in the biz is great….as long as I stay in control and make my own decisions. I enjoy meeting my wonderful supporters, fans. Without you I wouldn't be kaylani! I get to travel, see new things, meet different people, etc. There are of course, like any other line of work, ups and downs. And even though I try hard to separate my personal life from my career, it is almost impossible to do so. Not because I practice what I do in my movies in my personal life, but people ASSUME I do. I am taking a break from dancing at the moment, I really am not sure when I will start up again, but when I do, then yes, san francisco will be the first place I go. The Charmane Birthday party was great. We were all at privelege in Hollywood. We started the night eating an awesome dinner at our favorite, Katana's on sunset blvd. Me and nikki showed up with a surprise birthday cake while Tiffany showed up with an identicle one! Funny huh? We'll be eating cake for days. And the cakes were ordered from sweet lady jane's on melrose. ok as i was talking about it just now i suddenly got the craving so i left the desk and got a slice. i am eating cake right now as i speak…or type. Anyway the night was great Charmane looked better than ever. I started to feel a little sick, I went to the doc the following morning and now I am on meds and antibiotics for a mild case of strep…now that is payback for having way too much fun during the past 2-3 weeks. Yes, there are people out there who offer money (and I mean huge sums of $$$,$$$$) for a night with me. You'd be surprise who does. And no HELL NO i do not. Why? because I don't feel like it that's why. My website is currently under construction. It will be clubkaylanilei.com. I am working on it, folks just gimme time. I am not with any agency right now, however I am thinking about it, since I would like to do some other things. Relationships: (sigh) well, non-existent. My ex and I still talk, yes I still love him always will, vice versa. Is it hard to have a relationship while in the biz? Hell yeah. Unless the two are freaky and swingers and don't mind threesomes and all that. Let me tell you something I am not down with sharing my man.( when i have one) I love doing all that threesome shit in my movies, but for real, you won't be seeing me letting another chick touch my dude. Neva eva, and if she did, whatch the fuck out! lol. In a relationship I am very normal. Do not mistake that for boring. When I love it is intense and I am insane. I am a leo so I am sooooo loyal and devoted. I lavish with love and gifts, sex and kisses, shower with compliments, and affection. Unlike my movies I love to make love, and love to be in love, if however I know dude is only in for the occasional bootycall, then hey, I am cool. I don't expect a call the next day, and I am not that chick that bugs. I believe in no strings attached relationships just as much as serious manogamous ones, just be straight up no games played, cuz you can't play me. sorry. The next question IS: is it hard to switch between pornlife sex and personal life sex? That';s tricky. NO. First lets say when I am doing a scene in front of a camera, i am more concerned with the lighting on my face, if my lips are smugged, and if i am in a position where my stomache looks ok. Now, if my 'co worker' haha happens to push the right spots and I get turned on, then hell yeah I let mysef go and I have a mind blowing orgasm in front of the cast and crew, and hey, sometimes the crafts service guy(caterer) gets a good peak. Don't think I don't enjoy it though, and no my scenes are not totally fake, It's just there are alot of things that come to mind when in front of the camera. On the other hand, am I really trying to pleasure the guy? yes. At home sex, ahhhh…the sex I love, dark, candle lit, tv, music, whatever. floor, bed, couch kitchen counter tops, closet, balcony you name it i love to fuck on it, and do i really enjoy crazy pretzel positions, not all the time. Most commonly asked question, would i ever date a fan? Well i have to be a fan of yours also! Some dared to ask what the perfect size dick is" there is no perfect size, if it is however lacking in the huge department, then I think i speak for all the ladies, the tongue works wonders. sorry am i getting too x rated here, just keeping it real, I do do xxx movies, so i do have to be a little raunchy after all isn;t that what is expected of me?? hahahaha lol = D Fav sex position is basic mish, and or me on top, no i don't smoke weed, makes me paranoid. The advantages of being a contract girl…sky's the limit. I would have it no other way, and Wicked Pictures is the best. Disadvantages, well not being able to work with the other really hot contract girls. I am 4'11" and weigh 95Ibs. Yes i've heard of every nickname you guys give us petite girls! There is on;y one kaylani and Charmane movie out, it is called Trouble x 2 shot by Michael Raven distributed by SinCity. It was shot way before we became best friends, and no we don't get down like that anymore! We are like sisters for crying out loud. I love the girl! I do not live in vegas, i live in cali. Depending on the situation, some girls think that if the guy drunk texts her, then he is a pussy, some girls are flattered and may see it as a way to get back with the guy. Just a tip: if she has moved on, and has a new boyfriend, then Do NOT drunk dial. She WILL think you are lame. Liquid Courage….dangerous! Why am I single? Because I haven't found that guy that I can really settle down with and trust just yet. Am i in a rush to? no. I do not mind being single it is great and I have my best friends anf family, that is all I need, boyfriends are just a bonus. Like I've said before i am not on myspace to hook up. Why porn? It has taught me so many things about my undiscoverd sexuality. I have explored so many new things in my sex life and confidence, and many many orgasms in different ways that I never had before. We do nothing that your local librarian doesn't do, we just show it. Why not porn? What kind of guys do I like, nice, warm friendly. I like the guy that seems like an ass, or hard to get, but looks at me with puppy dog eyes, and adores the shit out of me. I am a leo, so that whole trying to make me jealous to get my attention bullshit does not work. I hate games. Being on set is anywhere from 3-10 days, each day consisting of about 8-14 hours. There's downtime in between scenes, i take advantage of those to read over my scripts, there's breakfast, luch, dinner, snacks, there is crew, cast, extras etc. The directors are cool, they have their moments with yelling and screaming, but also take the time to joke around and act silly with the rest of us. There are hair and make up artists, aka psychologist! Yes they hear it all! Lets' just say i know just about every personal aspect of the make up artist, and she knows mine! Sounds like your typical movie set, right?….ha ha with the exception of what some of us call the "fuck it bucket" this bucket contains lube, condoms, baby wipes, etc. Now that's porno!!!!!
Guys I really appreciate the time you have put in to write to me, thanks so much for your support and friendship. I hope my blabbering has answered most of your questions. I love you guys, keep it real and fun. Thank you.
Always and forever,
Kaylani Lei xoxo