Cindy Crawford On The Web,
ClubCindyCrawford
Launches.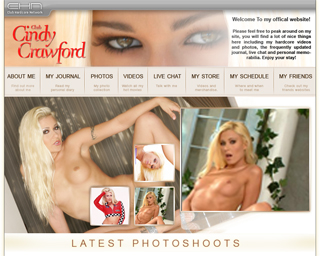 Porn Valley – The ClubHardcore Network, which launched last month with its' first website www.clubtaylorrain.com, has launched its' next website www.clubcindycrawford.com.
ClubCindyCrawford.com
is the Official Website of blonde porn goddess
Cindy Crawford
. The one time Jill Kelly contract star has found a home on the web. From her journal on ClubCindyCrawford, "I'm so happy to finally have an official site that really represents me. It's classy, elegant and nasty all in one." Cindy is off and running already. "I'm having so much fun already. I get to write in my journal, have live one on one chats with my fans in my chat area. Oh ya, and I'm adding all the content to my website. I update the site daily and I add photos and videos each week of me and other hot pornstars. I love this!!!"
Why now? Why ClubHardcore? Cindy adds, "I've dabbled on the web now and then but never found my place with a website. Now I have. I get to partner up with Kelly Erikson who runs the ClubHardcore.tv website, so we get to work together and spend time together. ClubTaylorRain is part of the network and I saw her site first. I like the way it's done. The focus is on the one girl, BUT they add so much bonus content that it will do really well to keep members. For every one photoset of me, there's 100 of other top pornstars and that's important to keeping members."
Cindy's enthusiasm has already begun to pay off, as traffic to her site continues to sky rocket.. "I'm just so happy, because I can come home from a day on set and start posting on my journal, or if I have any energy left, I can turn my camera on and start having a live chat with people who are members on my site. Sometimes when I'm bored, I'll take a shower, put on my makeup and something really sexy, turn my camera on and just give the people logged in a show they'll never forget. This is what I always wanted."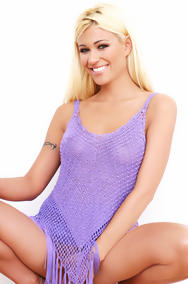 Cindy's website also includes a Personal Store where she sells clothing, autographed photos, polaroids and videos, plus she takes requests to make Custom Videos. Live Chat, Live Video, Schedule and Appearances, Video On Demand, Photo Galleries, Bonus Photo Galleries of hundreds of Pornstars, Video Clips, Bonus Video Clips of hundreds of Pornstars, Full Movies for download and streaming. Cindy answers all her email for fans and she schedules one on one chats via Live Video.
ClubCindyCrawford has been added to the CashOnClick affiliate program of ClubHardcore, so webmasters can start promoting now. Webmasters make 50% on all signups AND for the life of the membership. New features are being added to the cashonclick program weekly, such as Hosted Galleries, Free Content for TGP's, Banners