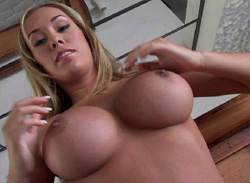 Fayner Posts: Oh boy howdy have the loose lips been flapping away as of late concerning one Lexie Marie and the recently erroneous song and dance that's been brewing over her sudden departure from Vivid and an alleged hankering for drugs that's got her knee-deep in the narcotic game with no end in sight.
And I'm impelled to embark on this journey through words to help correct this industry buzz going around which holds little truth but nonetheless is damaging to Lexie's career as a popular porno actress whether it is true or not.
AN EXAMPLE?
FROM LUKEISBACK:
Porn star Lexie Marie (who's repped by LA Direct) has a serious drug problem.
Though Derek denies this, I've been told that he demanded that Lisa move Lexie into her new house and keep an eye on her. Lisa said no. "My house is my sanctuary. I don't want a crackhead in my house. I don't want work affiliated with my home."
I believe these problems are in the past.
I called her ex-roommate Cassie Pishone, who tells me Friday, Jan 27: "I have not lived with the girl for four months. I've been clean for two months. I've been drug-tested. I haven't seen her. She moved out in October. From October until AVN [show in Las Vegas Jan 5-8], I have not seen her. The first time I saw her was at AVN and she has not been over to my house since. I don't really talk to her on the phone."
Lexie is back living with her boyfriend. She's no longer in Los Angeles and no longer parties hard.
I cannot protest to being good friends with Lexie. We met at Jesse Jane and Rick's wedding where I informed her that she should stand clear of me if she wished to not be labeled a druggie. She thanked me for warning her. And during that night of pills and powder and pot I only saw Lexie sucking on a fat joint that Tyler rolled. Not to say she didn't partake in more drugs that night, 'cause I don't know, but if she did she did so behind closed doors.
I spoke to Lexi the other night at Charlie Laine's birthday party about how she's being blasted on some web sites about being a drug addict. This has got to end, people. Every single chick that has come into the business has at one time had a substance problem. It's a way to cope with being fucked by slimeballs and then fucked over by the people paying for your work.
Lexi told me that she has no idea who Luke Ford is, that she's never met him.
"How can he write that about me? It's not fucking true! isn't he supposed to talk to me about it?"
"In a perfect world, yes. But then there would be no story, would there?"
"Is there anything I can do about it?"
"Not really unless you wanna kick his ass!"
At the little party I kept an eye on Lexi, and not because she has an awesome set of airbags. She nursed a drink, not once did she go to the bathroom with a bunch of chicks and come back sniffing and wiping her runny nose. Instead she talked about her newfound love. I saw no indication of her being on drugs, and if she does in fact have a "serious drug problem" as Luke wrote she'd be fucked up 24/7 just like honest to goodness addicts such as myself are.
And if she is immersed in the drug crowd and doing coke and speed like people are saying, the girl must have some secret to staying at a respectable weight. People hooked on drugs don't take  care of themselves and it always shows. Lexi looked  smoking hot and healthy.
Most porno people dabble in narcotics…pills, weed, booze, a little coke perhaps, but to single out one girl without any proof for what you hear she does is just plain bogus journalism.
Leave Lexi alone.