CINDI LOFTUS WRITES ON THE NAKED TRUTH WEBSITE: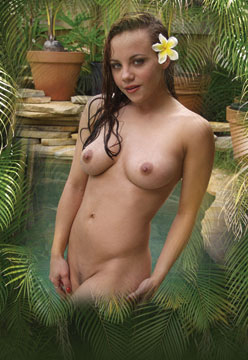 Do you know the name GAUGE? She was a porn movie star for not too long, and she was a DJ on KSEX radio for a while. She feature danced across the country. She had a Metro contract that went sour. She is well known for being an adorable 5 foot tall Jack Daniel's loving little toughie, who will kick anyone's ass. Well she has been out of the movie scene for a year(?) now. And she may be gone but certainly not forgotten. Gauge and her long time honey, Jason, moved to the middle of no where, bought a bunch of acres with a house in the middle where their pit bulls can run free and their AK 47's feel right at home. She still runs her web site to keep in touch with her fans and develops her own content just for them so they know what she is up too. Even though she has been out of the LA scene for quit some time. Her fans can't and won't forget about her. She recently received TWO signs of her fan's devotion! First she was voted Favorite porn star ( who doesn't host a Ksex show), although she's been gone from KSEX for a while all the fans there still love her and want her back. Next a Porn girl asked on her web site who you would most like to share a hotel room with? Of course the owner of the site came in first, but Gauge came in second! Beating out huge stars like Tera Patrick. Check out the feistiest Cutie you ever saw at ILoveGauge.com
MAKE SURE YOU VISIT GAUGE AT HER BOOTH AT THE 2006 AVN EXPO… GAUGE WILL BE AT BOOTH 9057, SIGNING FOR HER WEBSITE AND HAVING AURORA SNOW AND BRANDI LYONS APPEARING WITH HER!!!!