BUT HOW FAR AWAY ARE WE FROM THIS BECOMING REALITY?
TRICK-OR-TREATERS SUBJECT TO RANDOM BAG SEARCHES!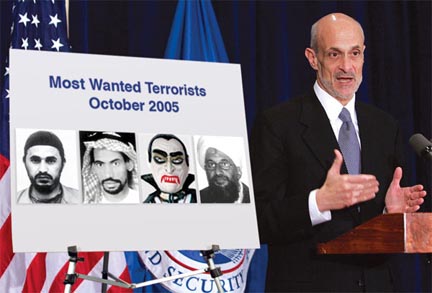 "Count Chocula is a dangerous man!"
www.theonion.com
WASHINGTON, DC—Responding to "a possible threat of terror and fright," Department of Homeland Security Secretary Michael Chertoff announced Monday that trick-or-treaters will be subject to random bag searches this Halloween season.
"Individuals concealing their identities through clever disguise, and under cover of night, may attempt to use the unspecified threat of 'tricks' to extort 'treats' from unsuspecting victims," Chertoff said. "Such scare tactics may have been tolerated in the past, but they will not be allowed to continue this Halloween."
While he would not elaborate on the specific threat, Chertoff said his office had "heard a couple spooky tales," and indicated that there was good reason to believe that Americans face "a very ghoulish scenario" this October.
"We have done and will continue to do everything we can to protect citizens from those who would play on our fears," a haunted Chertoff said. "Nevertheless, Americans are advised to be in a state of readiness."
National Guard troops and local police are being stationed at checkpoints in residential neighborhoods to seize the contents of any paper bags, pillowcases, plastic pumpkins, or other receptacles. Additionally, candy-sniffing dogs will be posted at regular intervals to locate and devour suspicious items.
Local, county, and state officials have been placed on orange alert, with strict orders to confiscate and investigate bags containing Bit-O-Honey, Snickers, Baby Ruth, Twix, Butterfingers, Mr. Goodbar, Reese's Peanut Butter Cups, gum, and any and all forms of taffy.
Chertoff asked Washington citizens for their assistance, and he outlined steps that the average citizen should take to aid in the war on fright. The DHS guidelines encourage parents to report any suspicious neighbors who create potentially spooky yard displays, especially those that include candle-illuminated pumpkin faces, skeletons in windows or doorways, or repeating tape loops of werewolf howling.
Chertoff recommended that law-enforcement authorities be granted sweeping new powers to ensure security, including mandatory street-corner identity checks for suspects wearing clothing designed to conceal facial features or otherwise obscure ready personal identification. Additionally, local police have been ordered to detain any individuals appearing to be ghosts, goblins, witches, or other characters designed to evoke fear.
Critics of the warning say that the DHS is merely sowing seeds of unease for political reasons, pointing out that the organization has yet to present any real evidence of the threat.
"This is yet another misguided and unfair example of profiling by our nation's law enforcement," said ACLU spokesperson Marilee McInnis. "It's doubtful that many G.I. Joes will be searched, but Aladdins, genies, and belly dancers should expect a huge crimp in their Halloween fun."